Busy Bees Lead Teacher, Gladys Popovics, talks about the pandemic lockdown and returning to work
In the beginning, Gladys Popovics, Lead Teacher in the Busy Bees Room (home to Congressional's youngest infants) hoped the school closure last year would be short. "I've never done remote work with babies," she said, "I'm used to holding them and playing with them, I wasn't sure how to do that from home."
She decided to do what she could and started recording videos. "The first videos took a few hours to record," she laughed. "It was hard because I don't like being in front of the camera. I was learning and had to keep re-recording to get it right. I contacted our tech department to ask for their help to upload and share the videos."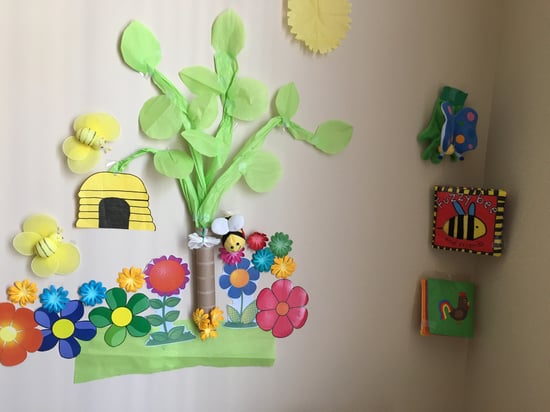 The home video backdrop created by Gladys Popovics,
during COVID lockdown.
Eventually, she got the hang of making the recordings and even created an amazing collage on her wall at home as a backdrop. "I recorded a video every day. Lesson plans were sent two times per week. I would also meet with parents with their babies. The parents were so thankful." she said. "I would do things like Row Row Row Your Boat and have the parents do the motions with their children. It was definitely much more work this way than when we are in the classroom."
The Infants and Toddlers program was the first one to open during the pandemic on June 1, and Mrs. Popovics had mixed feelings about returning. "I was very nervous about it at first," she said. "I kept checking the news to see how things were going. For a while, I wasn't sure I would even go back, but I really like my job and love the babies and I wanted to help the parents who were home with their children," she said.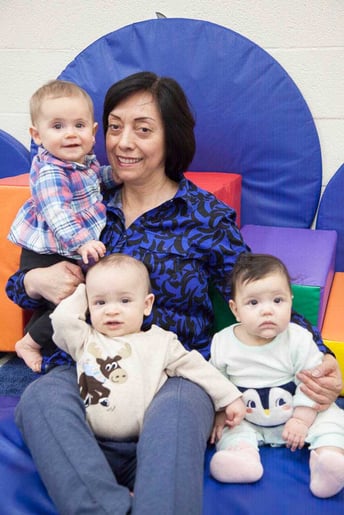 To meet new COVID restrictions, the infant and toddler classes were separated into smaller groups with parents dropping off and picking up outside the building. "It has been hard not seeing the parents," she said. "Getting used to all the extra hand washing has been an adjustment as well, and the babies are not masked. In the beginning, we didn't know that they weren't carriers of the virus. The CDC information on this was very confusing."
To keep her family safe, until she was vaccinated, she would jump straight into the shower as soon as she got home from work. "This has been crazy," she said about all the necessary precautions to stay safe." I never thought I'd be washing a banana before I ate it."
Like many people, Mrs. Popovics experienced worry and anxiety throughout the pandemic. "I worry for my son and my husband and also for my extended family in Peru. It is depressing. I don't know when I can see them again," she said.
---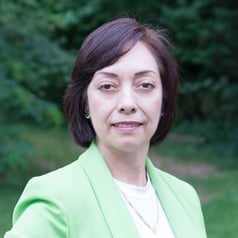 Gladys Popovics
Early Childhood Lead Teacher: Busy Bees