Ali Sheibani, Director of Technology discusses managing the technology needs of the school during the pandemic.
When Ali Sheibani, Congressional's Director of Technology, watched the news in early 2020 of Italy struggling with the pandemic, he knew it was headed our way. "In my eyes, the situation was serious," he said. "I anticipated that we would shut down and started planning early."
The first thing he did was investigate tools to use to help the school function remotely. "I researched Google Meet and training happened well ahead of us closing," he said. "During the Professional Day in February, teachers spent time training and preparing plans in case of a shutdown. In March when we did close, we used the first two days to train teachers in grade-level groups and we tested everything out with students. Ms. Thompson, the Librarian, was pivotal in this training too, as she's very familiar with Google Classroom," he said.
Grades 3-8 were already equipped with Chromebooks which were sent home with the students. An additional set of Chromebooks was purchased for students in grade 2. "A group of us, including Dr. Gordon, met at school and delivered the Chromebooks to the student's homes," said Ali.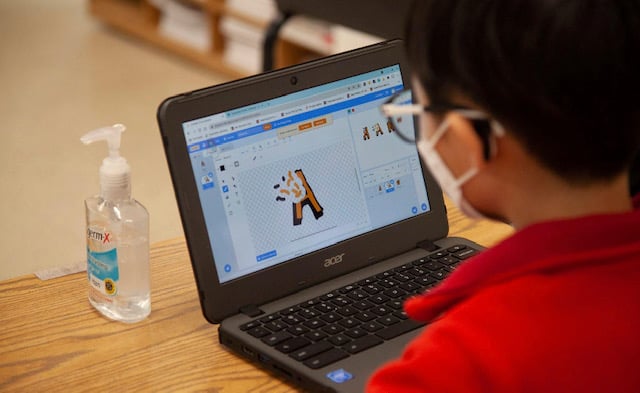 During remote learning, the technology department became a hub of support for parents, teachers, and students. Both Ali and Tony Souphida, the Technology Support Specialist, were on call helping to troubleshoot. "We got lots of calls from parents, teachers, and even students, especially about WiFi issues," he said. "Sometimes we'd simply tell them to move closer to the router," he laughed. "Things were so upended and the calls were non-stop at first while everyone found their footing."
How was Ali feeling during the lockdown? "Exhausted," he said without hesitation. "But I also felt resigned to the situation. Whatever needed to be done - we just did it." The craziness of the situation also gave him a deeper appreciation for what things were like before. "The pandemic has made the normal times seem easy," he laughed.
Prepping for the opening of school in the fall began early and required a boost in IT infrastructure. The decision was made to expand the 1:1 device program to include students in preschool-grade 1 and to acquaint them with the basic use in the event of another shutdown. "The whole world was ordering Chromebooks," said Ali. "We placed an order early and only just got them in time for when school started." To accommodate bimodal learning, cameras were installed in every classroom from kindergarten through grade 8. There were also bigger WiFi demands. "We had to quadruple the speed of our internet," he said.
Adjusting to doing things remotely and bimodally took hard work and a lot of problem-solving. "There was a level of unfamiliarity that we had to overcome," said Ali. "Everything was new. Our goal was to find the best way to do things, and the solutions were borne from the problems."
For bimodal students sound issues were a problem at first, so Ali invested in microphones for each teacher. "Some of the solutions involved just knowing what worked and what didn't," he said. "Many of the teachers figured things out on their own through trial and error."
Innovative ideas also helped solve problems, like the idea to have two cameras in the classroom for bimodal students. "Teachers logged in on their laptops so the bimodal student could see the teacher, and the other camera showed a view of the classroom which was great," he said.
Are there any silver linings to the pandemic for Ali? "I learned quickly that working from home all the time is not for me," he said. "I don't think that's a healthy formula. It was the hardest part for me. I have gained a new appreciation for going to work and being around my co-workers. Even the commute doesn't seem so bad anymore," he laughed.
---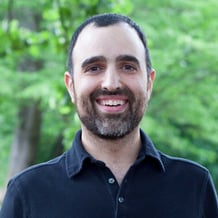 Ali Sheibani
Director of Technology
Learn More