Heather Thompson, Librarian, talks about her role in helping teachers teach and students learn during the pandemic.
When we went into lockdown in the spring of 2020, Heather Thompson focused her time on working with teachers and students to bolster their technology literacy. "In grades 3 and up I worked on tech skills so the students and teachers wouldn't feel so overwhelmed," she said.
In many grades, Google Classrooms had already been set up and she would join the classes to offer tech tips, answer questions, and help the students and teachers feel comfortable with the technology they were using. Early in the lockdown, the 1:1 device program was expanded to include second grade and Ms. Thompson spent considerable time working with the students to familiarize them with the tool. "I also spent a lot of time supporting teachers' use of technology," she said. "I asked them what it was they were trying to achieve and would recommend the best tool to get it done."
In the Little School grades, Ms. Thompson's time was mostly library-focused. For infants through junior kindergarten she recorded stories and shared them on a private YouTube link. She also compiled suggested activities for parents to do with their children.
For kindergarten and grade 1, she taught live. "I shared the supplies students would need in advance and we would read a story followed by an activity." For grades 2 on up, tech skills were the focus. "I held tech sessions with teachers and collaborated with the tech team who provided mostly hardware support while I focused on the software side," she said.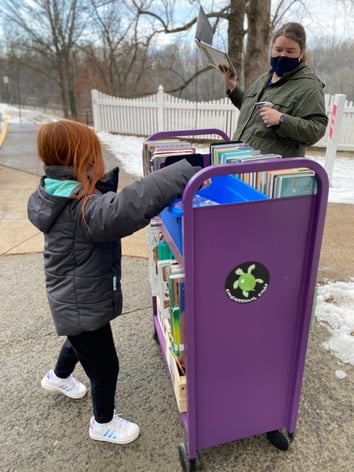 Heather Thompson visits 4th grade with
one of her many mobile library carts.
The pandemic has tested everyone's mental and emotional stamina, including Congressional teachers and staff, who also understood the importance of supporting students and parents. "Lockdown was incredibly stressful," said Ms. Thompson. "I was filled with uncertainty, wondering how long it would last, and the ramifications." She also became weary of feeling stuck inside and had to work longer and harder than ever. "I had to completely change the way I was teaching," she said. "The challenges facing teachers and students were different, and I had to adjust the type of support I was offering."
Working with younger students who lacked the vocabulary to express what support they needed created a unique challenge. "Students in second grade and lower were unable to say what was wrong," she said. She also found that some of the students thrived in an online environment, but noted that the majority did not.
Ms. Thompson's work didn't pause over the summer months. She quickly organized an 8-week series of teacher technology workshops to help them hone new skills. "I made sure I was very detailed in my presentations and created a Google Classroom for teachers that was accessible any time, so they had the option of participating live or learning on their own schedule."
When school opened, Ms. Thompson's focus was still very much on technology. "When Chromebooks were introduced in preschool, I made paper computers to orient students to the keyboard and the basic functions," she said. She also participated in junior kindergarten learning centers to support their tech needs. "Now all the junior kindergarteners know how to get into a Google Meet and how to drag and drop," she says.
How did she manage to get Congressional's youngest students online? "We use the Clever platform, a single sign-on education software," she said. The students show a QR code to their computer's camera and they are logged in to an area where they can access everything they need."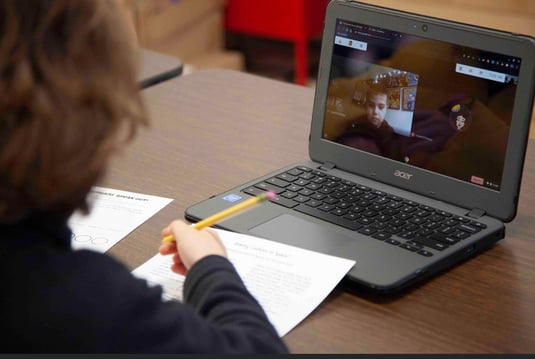 Heather Thompson has played a pivotal role in supporting
teachers and students' technology needs,
particularly software support.
Although technology has been introduced to our youngest students, its use is still heavily limited. "We are using technology just enough to build skills in the event that it is needed again. The students know how to mute their computer and we are teaching them the why behind what they are doing as having them understand helps to reinforce the skills," she said.
This year, space inside the school had to be maximized to meet the social distancing requirements, so Ms. Thompson's library has become home to multiple teacher workstations. She has created five mobile library carts that she fills with age-appropriate books and pushes around the buildings and around campus. "The Grasshoppers are the youngest group I hold library time with," she said. "Since I move from class to class, the grasshoppers wear masks during my class as a precaution," she said. As another safety precaution, students can check out books but are asked to keep them at school.
There are silver linings for Ms. Thompson that emerged from the pandemic. "I think going into all of the teacher classrooms to support them this year has made them better realize how I can help them," she said. "I think I've built a deeper relationship with them." She also hopes that online professional development, like the summer workshops she provided, can carry forward in the future.
---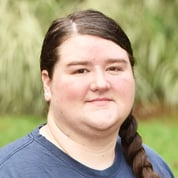 Heather Thompson
Librarian
Learn More