A Modern, Differentiated View of Math
Walk into any math class at Congressional, and you will see students tackling problems using different tools and strategies. You'll see teachers encouraging student to be flexible in their approach to solving problems. Students are encouraged to contemplate numbers, to look for patterns and make connections and to find different strategies in their quest to solve problems and arrive at the right answer.
"Our curriculum is active, vibrant, and incorporates the best of modern thought," says Andrea Weiss, Director of Innovation and Learning and Middle School Math teacher. "We live in a world of technology and technology is intrinsically mathematical, so it's important that our students develop these skills."
How are Congressional teachers accomplishing this? "We are engaging students using lessons and activities that get them excited about math. We're changing how students think about numbers, helping them to see that success in math is well within their grasp," states Andrea.
Congressional's math program is founded on a differentiated approach. "Our program is designed to meet the needs of students wherever they are developmentally," says Andrea, who has led the charge along with Division Directors Brent Hinrichs (Lower & Middle School) and Kim O'Neil (Early Childhood & Primary School) in collaboration with Dr. Penni Ross, Math Resource Teacher, and Congressional's faculty to develop a highly challenging, flexible and robust math program in Preschool – Grade 8. "We've designed a rigorous program to ensure all students are challenged. Our goal is to fully prepare them for success at the next level," says Andrea.
In Middle School, we offered a variety of math programs, based on where each student is developmentally. From Pre-Algebra, to Algebra I Honors and Geometry, there's a level to meet every student's need.
The program is not static, it is fluid with continuous assessment and new program ready to go should the need arise. "Students develop at different paces," states Andrea, "and the program is there to meet their needs."
This flexible differentiated approach isn't just limited to Middle School. "If students are ready, Dr. Penni Ross, our Math Resource Teacher will collaborate with Primary and Lower School teachers to give students the extra challenge and move them forward," she said.
"Our curriculum is active, vibrant, and incorporates the best of modern thought. We live in a world of technology and technology is intrinsically mathematical, so it's important that our students develop these skills."
- Andrea Weiss, Director of Innovation and Learning
and Middle School Math Teacher
---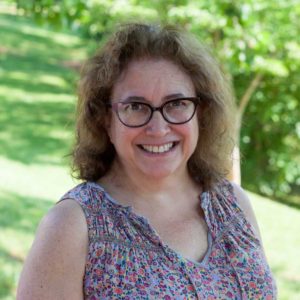 Featured:
Andrea Weiss
Previous Director of Innovation and Learning and Middle School Math Teacher