Celebrating Over 20 Years of Musicals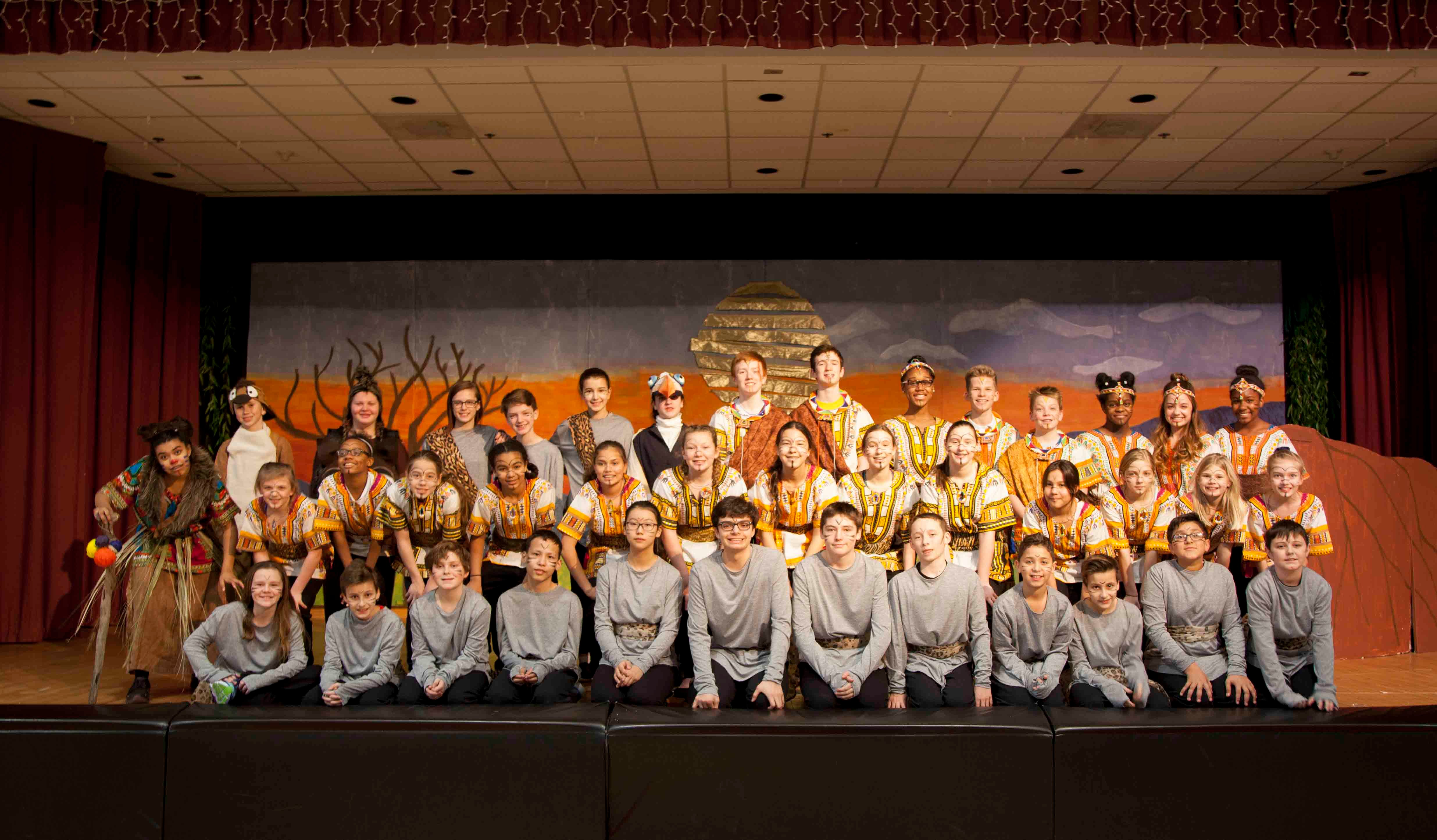 Lion King JR., 2018
Children love school musicals. From the initial announcement of the production to the auditions and rehearsals, to the night of the big performance, excitement runs high. From memorizing lines, scouting for props and preparing the backdrops, to making the costumes, working the sound system and stage lights, so much goes into a production, and Congressional students are involved every step of the way.
When the Devers Auditorium opened in 1997, its big stage, layers of velvet curtains, special lighting and space for audiences of 500 and more, made Congressional's annual school musical feel like the big time. On March 17, 2018, a musical milestone was reached when Beauty & the Beast JR. became the 20th musical production to take place in the Devers Auditorium. Eleven of these 20 productions have been under the direction of Derek Bowley, Middle School Speech and Drama teacher, whose dedication and passion has inspired hundreds of students and helped to bolster the excitement surrounding the musical, making it one of the highlights of the school year.
| | |
| --- | --- |
| Once on This Island JR., 2013 | Peter Pan JR., 2016 |
Derek Bowley's enthusiasm for the performing arts is clearly evident when you speak to him. "Musical theater is my favorite art form," he says. "I love seeing the students work hard, develop their performance from the first rehearsal to the final curtain call, and feel a sense of accomplishment and pride when it is all over. I enjoy giving students an opportunity to shine in a different arena, while still in the safe environment of the school community."
Mr. Bowley has also pioneered a couple of brand new musical productions at Congressional. "The first musical I directed at Congressional was Willy Wonka JR. Just like Peter Pan JR.., it wasn't available for licensing yet, but we were able to do it as a final pilot production before the materials and performance rights were made available to schools across the country." In fact, images from Congressional's Peter Pan JR. production have been adopted as the official images for the production materials distributed by the Broadway JR. company.
"I love seeing the students work hard, develop their performance from the first rehearsal to the final curtain call, and feel a sense of accomplishment and pride when it is all over."
- Derek Bowley, Speech/Drama Teacher and Musical Director
When he's not directing the school musical, Mr. Bowley teaches middle school speech and drama, and believes the musical is an important component of Congressional's program. "The annual musical production allows students to explore an interest in drama more deeply than they can in speech and drama class. For the students involved, it allows them to learn what it takes to perform a full show for an audience of classmates, teachers, friends, and family. Whether on stage, or backstage, the cast and crew experience teamwork as they rely on each individual to do their part for the success of the whole production."
Does Mr. Bowley have a favorite production? "Once on This Island JR., my seventh musical at Congressional, was special because it is one of my favorite junior shows. It's also a show I never thought I would direct at Congressional because it has a lot of music from start to finish, and requires a lot of dance. That year, I had a very strong group of performers and decided to take the leap and do it. I was very pleased with how it turned out, as I always am. I consider myself fortunate to say that I've never been disappointed in a production that we've done here."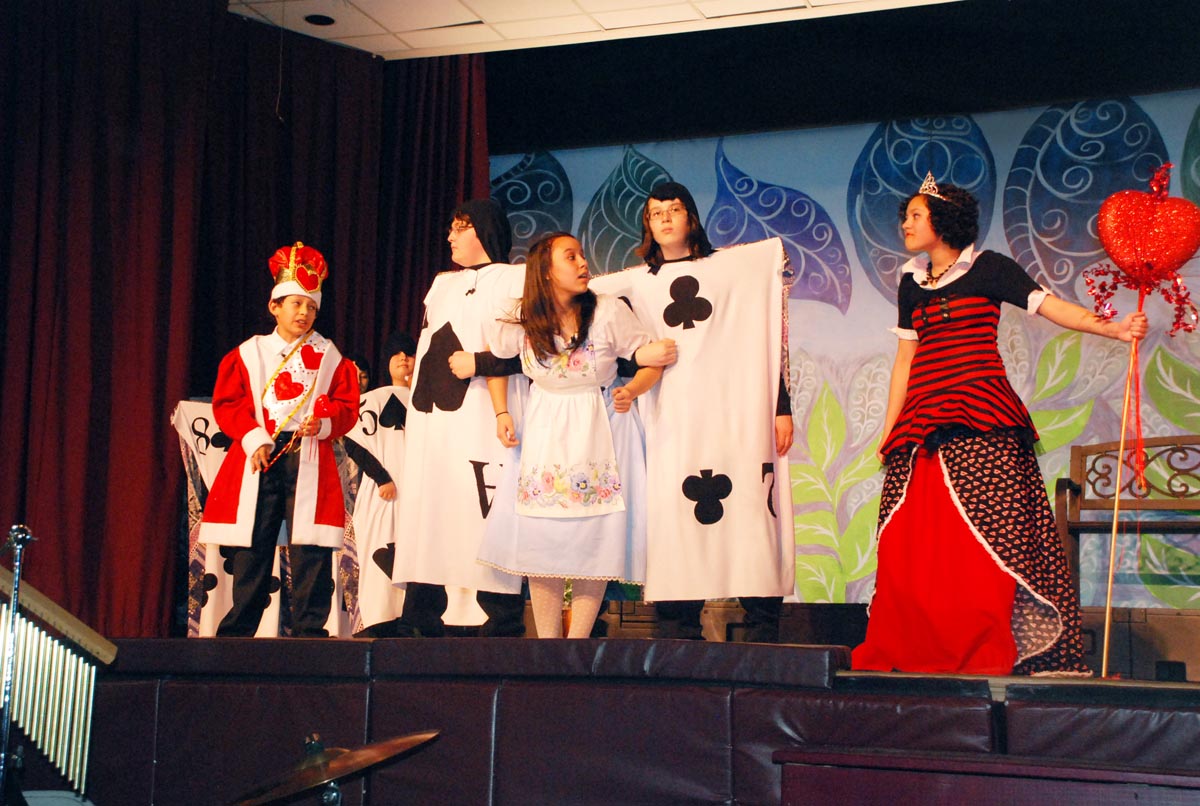 Alice in Wonderland JR., 2011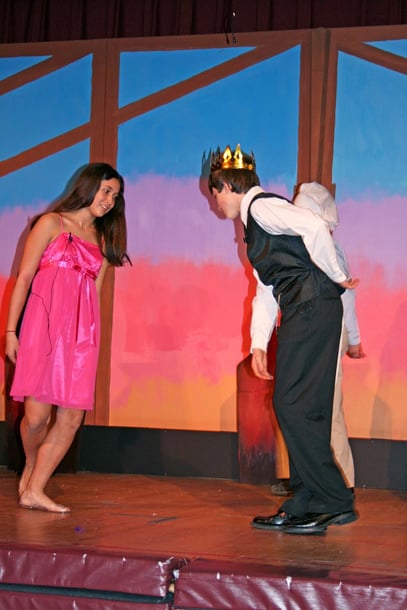 2019: Into the Woods JR.
2018: Disney's Lion King JR.
2017: Disney's Beauty and the Beast JR.
2016: Peter Pan JR.
2015: Disney's The Little Mermaid JR.
2014: Disney's Aladdin JR.
2013: Once on this Island JR.
2012: Disney's Mulan JR.
2011: Disney's Alice in Wonderland JR.
2010: Dear Edwina JR.
2009: Honk! JR.
2008: Getting to Know Rodgers and
Hammerstein's Cinderella
2007: Willy Wonka JR.
2006: The Sound of Music
2005: Amazing Musical Journey
2004: Annie JR.
2003: Schoolhouse Rock Live! JR.
2002: Fiddler on the Roof JR.
2001: Bye Bye Birdie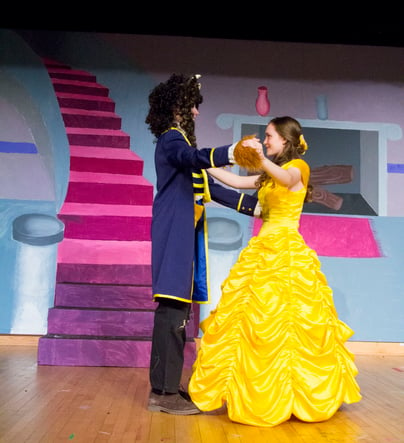 2000: The Music Man
1999: The Wizard of Oz
1998: The King & I
The annual musical brings together the community, and parent support and involvement has been significant over the years. Ramona Deal P'07, who helped with costume design on more than one production states, "Constantine Stanislavski once said, 'There are no small parts, only small actors.' Derek Bowley's approach to theater is the embodiment of this philosophy. Consistently, he is able to achieve a wonderful ensemble cast where everyone is important and even the youngest student playing an Oompah Loopah in Willie Wonka or a townsperson in Mulan, or a pirate, lost boy, or Indian in Peter Pan understands that their efforts are important to the success of the show. Derek is a pleasure to collaborate with and naturally brings out the best in everyone affiliated with his projects!"
Guy Arnos P'10,'06 was involved in the musical productions for nine years. "While a Congressional parent I worked backstage on technical and production issues for nine shows from 2002-2010. The first five shows I worked with three different directors. The last four shows I worked with Derek Bowley. Derek brought professional theater experience and an understanding of production that made it easier to have an excellent collaboration to make sure the show priorities were met and technical issues complemented the show. He has continued that throughout his tenure at Congressional."
Mr. Derek Bowley directing Disney's Little Mermaid JR. with Norman King IV '15
Norman King IV '15 in "Trials of Nuremberg" as a sophomore at Edmund Burke School
For most Congressional students, the annual musical is their first experience with theater, and for some the experience inspires them to stay involved in theater after they graduate. Norman King, IV '15 is one of those students and says, "From a very young age, becoming an actor and filmmaker was a dream of mine. Every year, while attending Congressional School, I would participate in the musicals. It was always a joy to be a part of the productions. I found that Mr. Bowley consistently did an excellent job with producing the musicals. Attending the Edmund Burke School for two years, I have participated in five theatrical productions. I will always be grateful to Mr. Bowley for inspiring me to make my dream a reality."
---
Featured:
Derek Bowley
Speech and Drama Teacher Musical Director