Allyson Judge (Parent '21, '18) Chair of the 2021 Above & Beyond Gala talks about life during a pandemic and planning for this year's virtual gala.
Allyson Judge was not shocked when schools went into lockdown last year. "My husband, Tim, and I had been to ​Las Vegas the month before and we were sanitizing everything even back then including our seats on the plane," she said. On March 11, two days before Congressional School announced its suspension of in-person classes, Allyson's husband Tim sent a note to his team at work telling them to work remotely effective immediately.
"I remember coming to campus in the afternoon on March 13 to pick up Evan and it looked like a mass exodus," said Allyson. "Students were there with trash bags filled with their belongings. I thought we'd come back soon and it would be over, but instead, it seems never ending."
Having everyone working and learning at home was a challenge for the Judge family at first, with each family member claiming their individual spaces. "Tim spent most of his time working outside on the patio because his office had been in the bedroom," said Allyson. "He's still working remotely, and we ended up renovating the basement to create more space." Allyson's husband will continue to work remotely part-time, even though his office will tentatively reopen in September. "In corporate America, there was a perception that if you are not in the office working, then you are not working," she said. "I think the pandemic is changing that."
Allyson and Tim initially chose bimodal learning for William and Evan when schools reopened - ​while William has remained at home for the entire year, Evan returned to school for the third trimester. "It was weird and stressful dropping Evan at Congressional at first," Allyson said. "Evan was exhausted when she came home. She was used to managing her own schedule and having lots of downtime during recess and lunch. Being back in person meant she was with people all day which was tiring at first. But she's so glad to be back, ​and we are so happy she was able to be back in person with her friends for the end of her last year at Congressional."
This year, Allyson served as Chair of the school's Above and Beyond Gala, and having volunteered the year before, she was aware of the challenges of running a virtual gala. "I worked very closely with Chris Pryor, Assistant Head of School for Advancement and External Affairs, throughout the entire process. We started by casually surveying parents who had volunteered to work on the Gala Committee, the leadership team, and several others in November on whether they would want an in-person or virtual event and it became quickly apparent that the event would be virtual again," she said. "By December, Chris and I were interviewing vendors and exploring new platforms for the online auction that would work better for a virtual event."
After running the Gala in-house the year before, Chris, Allyson, and the Gala Committee decided to hire consulting and production expertise to help them. "We met weekly with the consultants, C2 Auctions," she said. "We also hired a production company to help with audio and cutting between shots. On the day of the event, we were on campus and the auctioneer was dialed in from her house. Helen (Helen Saks, parent of Thandie '25 and Tilda '23) was our Creative Director and worked to coordinate everyone. It was amazing, like being part of a TV production," she laughed.
As for next year, both of Allyson and Tim's children, William and Evan, plan to be back in school learning normally. William will be a senior at Flint Hill School in Oakton, and Evan, who graduates from Congressional this year, will be attending The Madeira School in McLean for high school.
---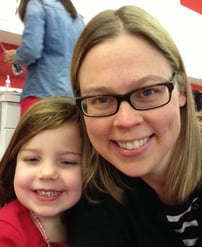 Allyson Judge (Parent '21, '18)
2021 Gala Chair